Over the last two or three nights, I put together my four-patches for my High Seas quilt - so now its 'just' a matter of putting them all together. Phew. This one just took me nearly 1 1/2 hours to finish (and I think I'll need to redo it anyway...) - and there are 42 blocks all together, so its going to be a fairly labour intensive exercise. I hope its worth it - its still a little hard to work out if its going to look ok or not.
Only problem is they are meant to finish at 9" (so 9 1/2" unfinished) - and this one is very close to 10". I'm really not used to this - usually my 'tricky' blocks finish small, so I'll need to work out what's going on. You can probably see the points don't all quite match up - so obviously I've gone wrong somewhere in my piecing. Not sure where - I used really accurate 1/4" seams. I did press my seams open though (which caused a lot of bulk in some places) so the next one I'm going to press them toward the triangles, and see if that makes a difference with matching the points, and getting the size right.
If anyone has experience making these blocks, some tips on how you pressed them would be appreciated. I have become used to pressing seams open (I really like the sharper seams I get doing it that way) - but I am thinking it might be better to press to one side for these blocks, to reduce bulk where the points meet...
Off to try another one and see if I can get it to work!
I'm linking up to Manic Monday at Sew Happy Geek (also go check out her
QAL
starting very, very soon! It's going to be fun!)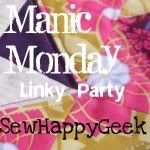 happy stitching,
Jess