So things have been a wee bit quiet around here for the last month or so. We are in the midst of school holidays, and I haven't actually touched my sewing machine for almost a month (I know, right?). I think I burnt myself out slightly at the end of last year (more on that in another post), but I'm finally feeling like getting back into things, so you'll probably be hearing from me a little more regularly again :o)
I'm returning to the interwebs today to share the latest and greatest fabrics from my sponsors. There have been a few highly anticipated collections that have hit shops this week, so there is some serious eye candy to share.
Polka Dot Tea stock
a lovely range of Liberty Tana Lawn
, including this gorgeous
'scrap pack' of ten fat sixteenths
. It's a great way to get a gorgeous selection of Liberty fabric, and you'll be surprised just how far a fat sixteenth will go.
Danielle and Jeannette also run a Liberty Club, and have a few places open if you'd like a monthly injection of Liberty
. I signed up last year when they first announced the club, and it is so lovely getting a surprise bundle of Liberty each month. I have plans to actually start using them quite soon :o)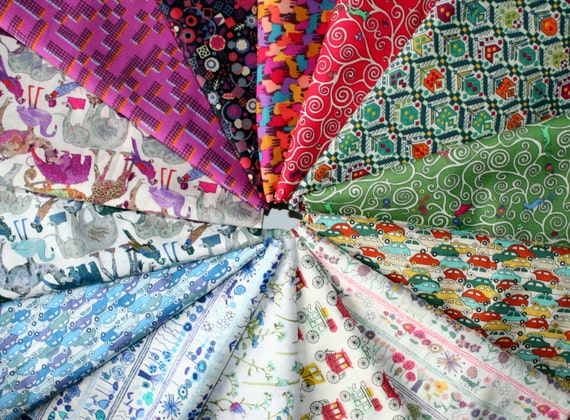 Fabricworm have recently listed a bunch of new fabrics, including the
fabulous Serengeti by Jay-Cyn for Birch fabrics
. These would be gorgeous in a quilt for a baby or child, and some of the prints are available as
knits
or
poplin
.
The
highly anticipated new Cotton + Steel collections have arrived at Pink Castle Fabrics
. With six fabulous collections to choose from, it's going to be very hard to narrow down which prints to get! I personally love
Mochi from Rashida Coleman Hale
, and
Playful from Melody Miller
- but all six are pretty amazing.
Fat Quarter Shop have just released
the first block in the Snapshots QAL
, Let Them Eat Cake. The pattern is available as a
free PDF download
, and there is a
YouTube video tutorial t
o go along with it. Each month, a new pattern will be available and FQS encourage you to donate to St Jude Children's Research Hospital if you're sewing along.
Sew Me a Song have a giant bundle of
Suzuko Koseki fabric on offer - 59 fat eighths to be precise
. I know I've mentioned before what a huge fan I am of Suzuko's fabric (the base cloth is seriously divine, and her design aesthetic is just amazing), and this is a brilliant way to get a LOT of different prints in one glorious bundle.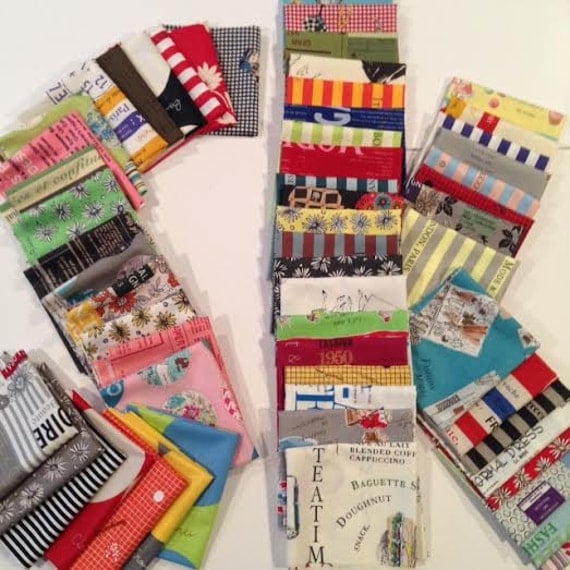 Last of all, I owe you a very overdue winner of the Polka Dot Tea Cotton Couture giveaway from late last year. Thanks so much to all of you who entered - the lucky winner is comment number #71,
who is Ali
! Congrats Ali, I'll send you an email soon.
Happy browsing, and have a fabulous weekend!
xx Jess