I am now accepting sponsors on my blog. If you're interested in becoming a sponsor, please contact me at theelvengarden@gmail.com for more information.
SPONSORS:
Sew Me A Song
is an online Etsy store specialising in Japanese and contemporary cloth. Becca stocks an amazing array of designer collections and Japanese fabrics.
Other places you can find Becca: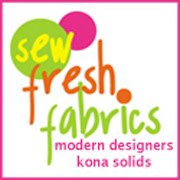 Sew Fresh Fabrics is an Etsy store, owned and operated by Peg. S

ew Fresh strives to bring you the very best modern fabrics from current designers to the must-have basics. They have an amazing organics section to boot!
Other places you can find Peg:
_________________________________________________________________
The Fat Quarter Shop was founded in 2003 by Kimberly Jolly. An avid quilter, Kimberly began her shop as a side business while still working a corporate position, cutting, packing and shipping right out of her house during evenings and weekends. From the very beginning, she was committed to delivering top-notch service for every single order and customer. As the Fat Quarter Shop's reputation grew, Kimberly decided to make it a full-time operation. Her husband Kevin joined her not long after, and with his help, lots of hard work, and a tireless commitment, the store began to grow. Over the past few years a few more people have joined the staff!
As a team, we continue to branch out with the best fabrics, exclusive kits, quilt clubs, BOMs, and more. And we will always be driven by the passion that Kimberly founded the store upon, which is always giving you the best products and service!
Other places you can find the Fat Quarter Shop: