I have to admit I have only recently discovered the awesomeness that is Cotton Couture, but they have very quickly become my solids of choice. I have used Cotton Couture in a few quilts lately (the most recent being my Kaleidoscope Star quilt, which I've renamed Galaxy, but also my Giant Chevron quilt I'm making for the FMQ QAL), and I can't say enough good stuff about them. They have the most amazing soft hand, and quilt up beautifully. They give quilts such a luxurious feel to them!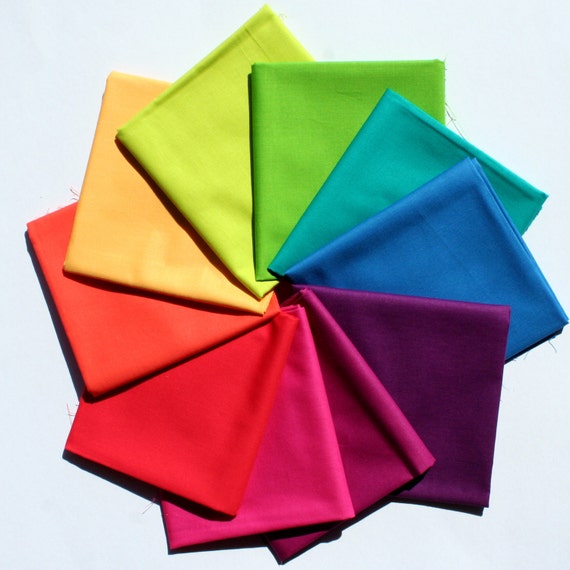 Polka Dot Tea
stock a huge range of Cotton Couture (they have around 45 different colours in stock), including several to-die-for bundles. I bought their Spring Sampler bundle a few months ago and the colours are just amazing (and my son is continually harassing me to make him a rainbow quilt using them. It is on my to do list.)
All the colours they stock are available as yardage
, and Danielle and Jeanette are more than happy to set up a custom listing if you want something specific.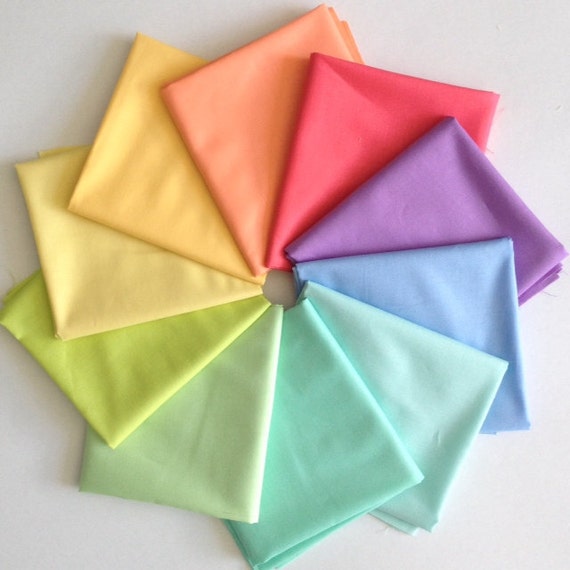 I have an amazing giveaway sponsored by Polka Dot Tea to offer you today - this gorgeous roll-up of blue Cotton Couture. Blue is one of my favorite colours - and this collection doesn't disappoint. It ranges from green/blue through blue into blue/violet hues. These photos don't do it justice.
The roll up includes 18 5" strips of fabric. There are so many things you could do with these - a simple strip quilt, chop it into charm squares, make them into HSTs or HRTs - the possibilities are endless. Mine is destined to become a baby quilt for an upcoming nephew (possibly along the lines of the raindrop quilt I made for the Umbrella Prints challenge). If you're an Aussie, they would also be the perfect starting point for the AQC challenge for next year (which is True Blue).
The giveaway is open to everyone. To enter, just leave me a comment - maybe let me know what you think you'd make with them! For a second entry,
sign up to receive the Polka Dot Tea newsletter
to keep up to date with what's new in store (there are lots of gorgeous fabrics arriving over the next few weeks!) and leave a second comment letting me know you've signed up.
This giveaway will close next Monday 15th December at 8pm AEST, and Mr Random will draw the winner. Please make sure to leave your email address if you're a no-reply commenter - if I can't contact you I will redraw.
Good luck!
xx Jess