For fresh sewing day this month, I thought I'd look at my 'To Do First' list from March:
1. Make my two commissioned quilts (no deadline, but I want to get them done soon) - DONE. Woo hoo! I feel like they took forever, but when I re-read my fresh sewing day post from the first of March, I hadn't started putting them together. So I'm actually quite pleased I got them done within the month (just).
2. Secret project (Deadline 30th March) - DONE. Can't reveal this yet, but it shouldn't be too much longer...
3. Swoon - make the other four blocks and then work out how the heck I'll quilt it (and what sashing colour to use - I'm thinking black at the moment ?!) No further work on this. To be honest, I've lost motivation and have other things I'll do first :o)
4. 4x5 Bee blocks (Due 15th April) - DONE
So pictures of my finishes for March:
And my To Do List for April:

I have had SO much fun picking out bundles of fabrics for these projects - I could seriously play with different combinations of fabric all day, every day :o)
1. Retro Flowers QAL
using (probably mostly) this bundle of fabrics (well maybe not these exact ones, but it will involve purple, mustard, orange, teal, grey and black):
2. A baby quilt using these fabrics:
Based around Meet the Gang, with a bunch of coordinating solids, plus a few other prints.
3. Stained QAL - I've cut all my fabrics for this and made one block. I'm using Saffron Craig's Magical Lands and have chosen a bundle of prints based on this.
4. To do absolutely first is a paper-pieced quilt (all will be revealed in a couple of weeks)
I'm linking up to Fresh Sewing Day at Lily's Quilts


And To Do First with Lawson and Lotti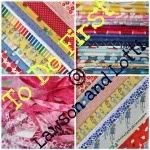 xx Jess