I've decided to use my Fresh Sewing Day posts as a 'what I got done' and 'what I need to do' - thanks to
Lawson&Lotti
for the idea :).
I had my first finishes in Feb (yay!!)
Library bag, FTLOS big item, Name game Swap and FTLOS small item.
I've completed another couple of swoon blocks, so I have five out of nine done:
I've made quite a few snail trail blocks, four of which became a mini (still not quite finished!)
And I've made progress on my secret project (bwahahaha!!)
And I've cut and planned out my two commissioned quilts - these are my priority for now. Apologies for the *#%t photo, I had to stand on our kitchen table to take it... Mostly Just Wing it, with a few other prints.
So my to do list for March:
1. Make my two commissioned quilts (no deadline, but I want to get them done soon)
2. Secret project (Deadline 30th March)
3. Swoon - make the other four blocks and then work out how the heck I'll quilt it (and what sashing colour to use - I'm thinking black at the moment ?!)
4. 4x5 Bee blocks (Due 15th April)
Plus whatever else crops up (and it always does!) I should probably get a few long term WIPs quilted...
I'm linking up to Fresh Sewing day at Lily's Quilts (link in sidebar) - make sure you check out what everyone else has been up to this month!

I'm also linking up to Lawson&Lotti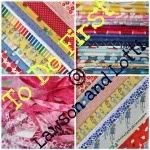 xx Jess